Pisces Daily for Today
PISCES - February 20th - March 20th
Working in private increases your productivity. Sneak off to a secluded area where you can hear yourself think. It will be a relief to escape office gossip and interruptions. If you do a good job with a creative assignment, you'll be given more lucrative projects. This is your chance to establish yourself as a bold innovator. Don't be afraid to break away from the crowd. Offer the public something new. Challenging the status quo will appeal to your subversive side.
Call the Piscean advice line 0905 506 6639 to hear how you are poised on the brink of truly magical things so don't let more cautious characters hold you back or get you down with their pessimistic prognostications.
Live Psychic Advice
Call a hand chosen Psychics and Mediums on 0906 539 1662 now for answers to any questions which could be holding you back! Book a credit card reading online, or call a friendly receptionist who can take your booking and connect you with your chosen reader on freephone 0808 206 4504.
Anna
Hand-Chosen Psychic: Anna
Anne is an exceptionally profound clairvoyant, renowned all over the world and on TV as she tunes into your needs instantly. She specialises IN LOVE AND RELATIONSHIP & CAREER MATTERS and all other issues of the HEART, FAMILY and whatever is troubling you. With over 30 years experience she can combine her skills to provide a unique and revealing reading that will clarify YOUR CLEAR PATH.(Can also read in French)
Speak to Anna, or one of the other amazing Psychics by calling 0906 539 1662 now and entering Anna's PIN number: 8946 or call 0808 206 4504 to book.
Molly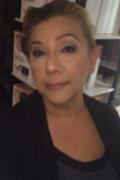 Hand-Chosen Psychic: Molly
Molly has been blessed with her gifts since birth and has been giving readings for over 35 years. She is honest and caring and straight to the point. When you have a reading with Molly she will aim to give you the answers you want, in a way you can understand and with the respect you deserve.
Speak to Molly, or one of the other amazing Psychics by calling 0906 539 1662 now and entering Molly's PIN number: 4146 or call 0808 206 4504 to book.
Aries | Taurus | Gemini | Cancer | Leo | Virgo
Libra | Scorpio | Sagittarius | Capricorn | Aquarius | Pisces
Calls to 0906 Livelines cost £1.53 per minute, 0905 pre-recorded lines 77p/min from a BT Phone line, other networks may vary. Regulated by PhonepayPlus 18+ only, calls are recorded for your protection. RGA WA15 8YL. For entertainment purposes only. Customer Service: +44 207 6919736.